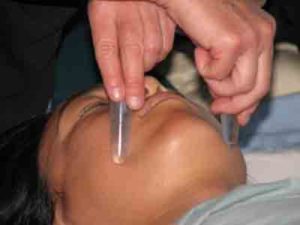 Rain Bath is an ancient form of aroma therapy combined with stones, intended to rebalance the physical through affecting the nervous system with plant oils, aromas, and healing stones of various temperatures. This treatment is a very gentle and non-invasive method of alleviating stress and anxiety, helping to restore balance to the body's chemistry.
A variety of physical ailments can be affected by the essential oils. A Rain Bath treatment protects, nurtures and enhances the immune system. This is a neurological treatment that assists the body with detoxification, eloquently blending modern science with ancient tradition.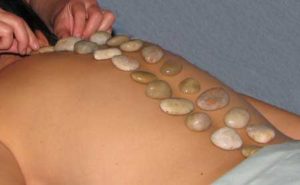 In this workshop, the students learn the background of this ritual and the history of the herbal medicines (energies). Each herb used for creating the essential oil is fully discussed in spiritual terms as well as scientific, allowing you to fully understand how to work with essential oils in combination with the Stone Tribe.
The students will have an opportunity to perform the entire process on one another and will be prepared to proficiently offer this treatment modality by the conclusion of the class. In the professional clinical or spa setting, this is a one hour treatment. Specific stones are used for various aspects of the therapy and a variety of temperature ranges are explored.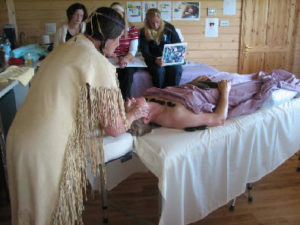 A kit of specific organic, therapeutic essential oils and stones are included.  Each kit will offer approximately 12 treatment sessions, allowing the students the opportunity to profit quickly from their new knowledge.  The instruction manual is included in the course fees.
This course includes demonstrations, lectures, hands on practice and ceremonial participation.
Class fee includes a Rainbath kit consisting of organic essential oils and stones – enough to offer 12 full treatments.
Requirements: massage, wellness, aroma or energy therapist