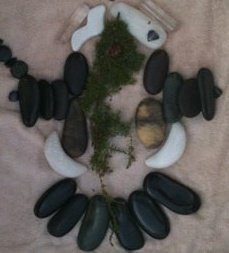 My recent trip to England and the 8 days with Jenny Ray proved to be all that I had predicted and much, much more. Words are simply not enough to describe it all, and it would take months to recount everything. The courses were an important step on my Spiritual Journey.
The 8 days were very intensive, and amazingly powerful and cleansing. As I return to my daily life, I notice how the Journey has been healing for me as well. Subtle changes that I only notice after I've done things differently. I predict that in the months to come I will realize more things where I have healed and changed for the better.
Every day brought new spiritual insights, but in a very down to earth manner without any magic or supernatural woo-woo. Jenny Ray is an amazing woman. Calm, down to earth, logic reasoning, openly admitting if she doesn't know, good sense of humour, and an appreciation and gratitude for life here and now that we all could learn a lot from.
Each morning we would gather in a circle and lay out the altar and tie prayer ties in Native American tradition, with the Medicine Wheel, the four elements and calling in the protectors from the four directions. This is a spiritual, and not religious, practice which fits into practically any belief you might have.
Jenny would lay the alter cloth in the centre, light the sage and place the four elements and the guardians while speaking of their symbolic meanings. The symbolic meanings serve as a focus while communicating with Creator (whatever you might call him/her/it and think it is). Much more can be said about the wheel and the directions, but I'll leave that for another article. We would then place a prayer tie in each direction, some spoke out aloud their prayers, others kept them private. As the days passed by, many voiced their prayers which were deeply personal and the support of the group created a wonderful atmosphere which facilitated healing.
During the time in the circle, after tying Prayer Ties, Jenny would speak and teach us. Sometimes the talks could last all morning, because there were so much to discuss and learn from her. Not only did she teach what was scheduled, but she also openly shared her ways and taught us about Ceremonies and practices, giving us all a greater understanding and appreciation for the Native American culture and life.
The first four days were the Sacred Strokes. Sacred Strokes is three different treatments, and then a some very powerful techniques which we can implement into other treatments. We covered pressure point and energy work, Sacred Symbols, facial massages and stone rituals aimed at building a person's strength and emotional healing.
Drum-making on Monday was amazing and so much fun. I was like a child again, having a blast and the best time of my life. Just like children can sit there in their own very happy world with a big smile on their face while they work on something. I was that child, especially during the lacing of the drum. This will certainly not be the last drum I make. I will host workshops teaching others drum-making.
Tuesday was the Shamanic Journey. Which in essence is a guided meditation using the drum. It lasts about 20 minutes and you might meet animals or become animals during the time.
Afterwards you talk about the Journey and the messages your sub-consciousness gives you. The underlying belief is that we all hold all our answers, we just have to listen to ourselves. Various animals have different symbolism, depending on region and part of the world. It can be very interesting to see what their meaning is and how they relate to our present situation. The discussions were interesting and enlightening. And the meditation in itself was very relaxing and energizing.
Healing Hands is energy work and touch therapy, where the practitioner serves as a channel for Creator. It's a very gentle and caring treatment, which leaves you feel relaxed and comfortably warm afterwards. A bit like when you've received a great hug. Some people might experience sensations, see colours and go on a small Journey during the treatment.
There is nothing mystical or magical about Healing Hands. We merely serve as tools for Creator, as a channel for the healing energy. We do not control what happens, nor do we take credit for it. The initiation as a Healing Hand practitioner isn't anything magic or mystic either. The Ceremony taking place is just an affirmation or confirmation of what skills we already possess. The ability to be a channel for Creator and facilitate wellness for others.
What makes Healing Hands initiation special and different from eg. Reiki is that there's a lot of Ceremony. It is a Native American practice, so the Medicine Wheel and other practices are involved. Another difference is that the symbols are not secret, nor is the initiation something done privately. Everything is out in the open, taking place with everybody in the circle.
I am very grateful and happy I took the instructors course. I understood and truly learned how to lay the alter. The spiritual practices I have been introduced to are traditions I want to carry on and teach people. The mindset and philosophy behind these Native American practices fit into my own world-view and are very compatible with what I was already doing.
Becoming ceremony can be very cleansing and powerful, even if you do it on your own. It's a great alternative to the daily meditation because you actually do something with your hands and seem to produce something out of it when you tie Prayer Ties.
This will not be the last time I study under Jenny Ray. My hope is to be able to visit her in the USA and attend some of her workshops, learn further skills and become Ceremony again with her. Ah ho (it is complete)